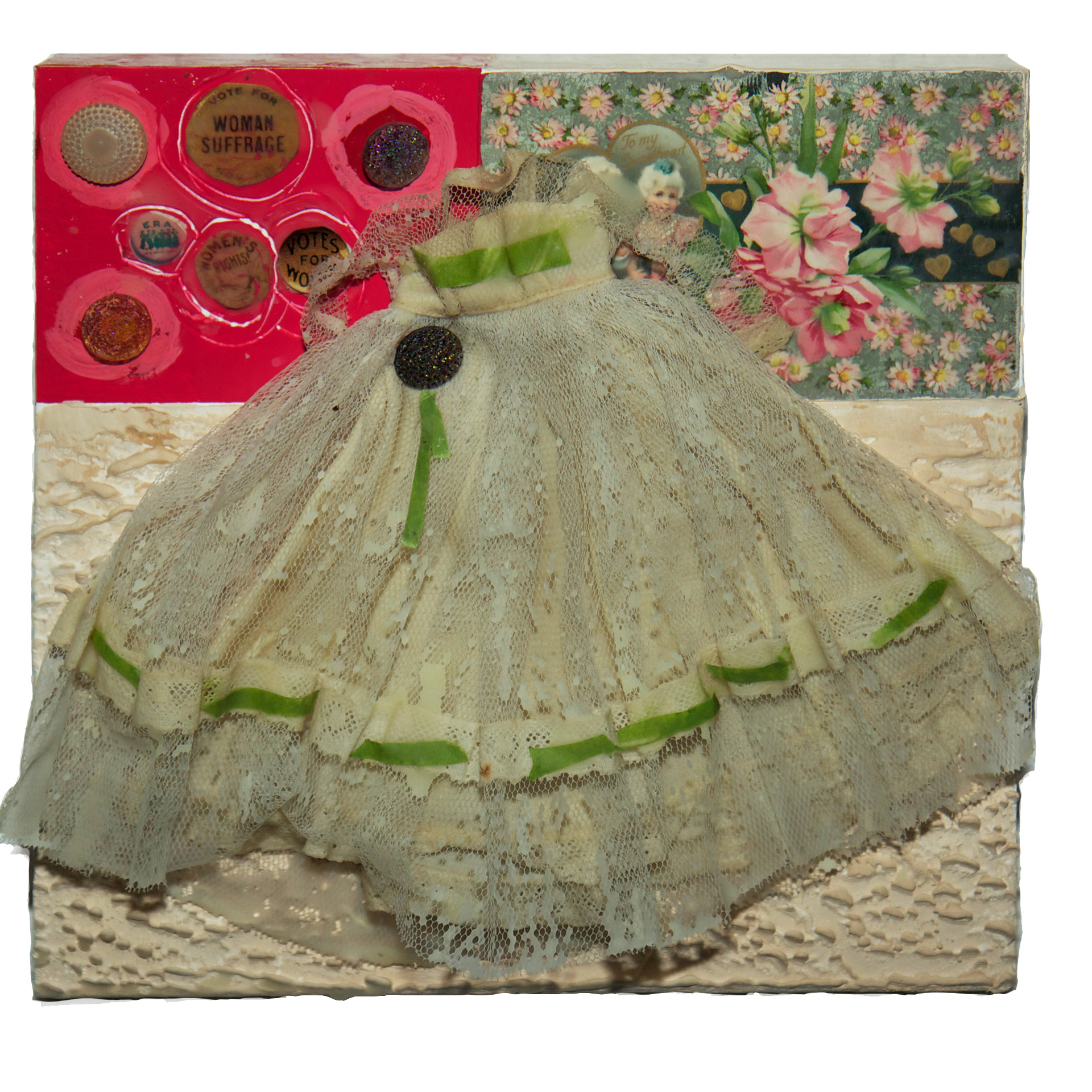 "Wild Roses",10″x10″, encaustic with vintage postcard, vintage dress and glass buttons, 2012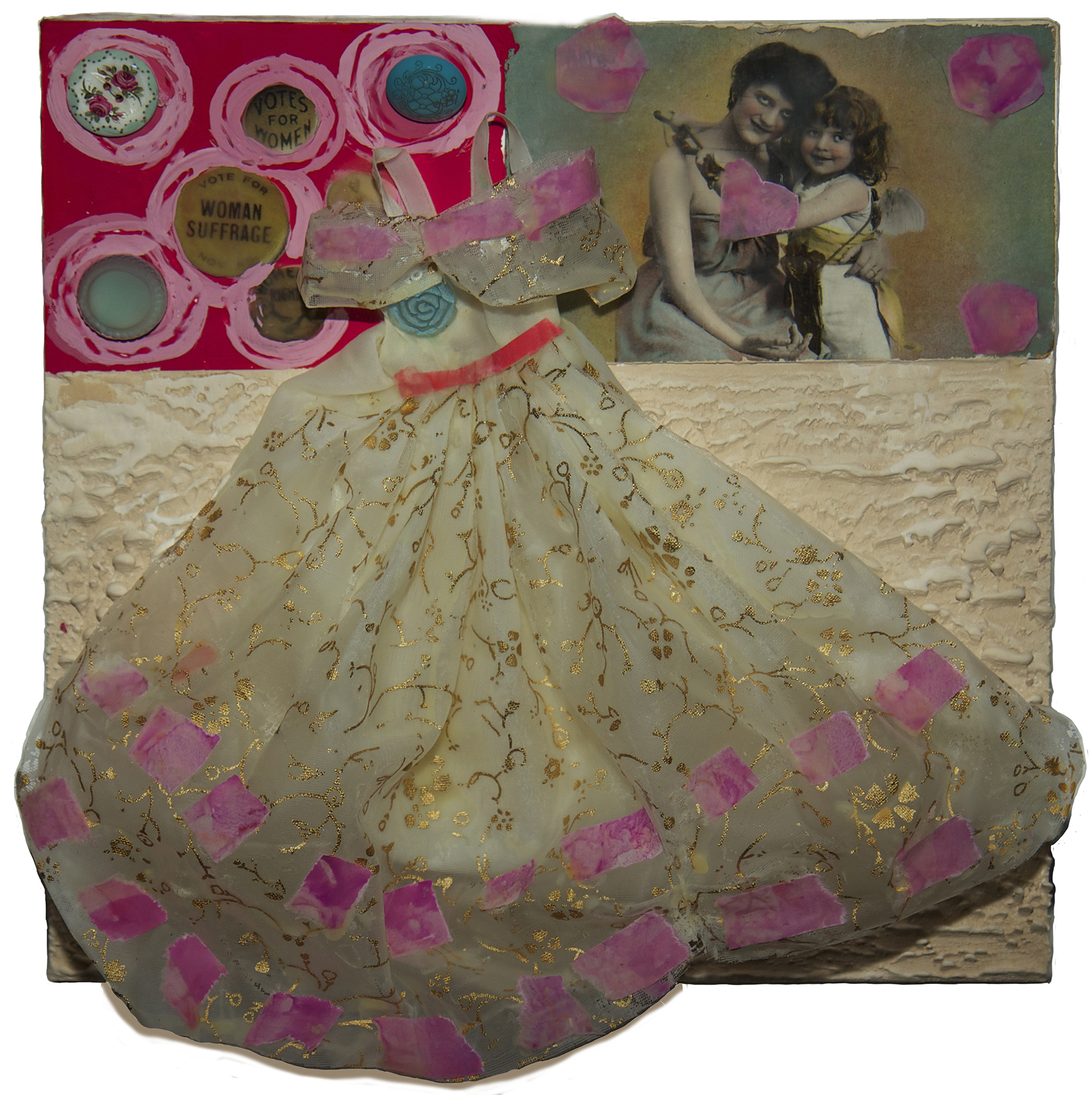 "The Hug", 10″x10″, encaustic with vintage postcard, vintage dress and glass buttons, 2012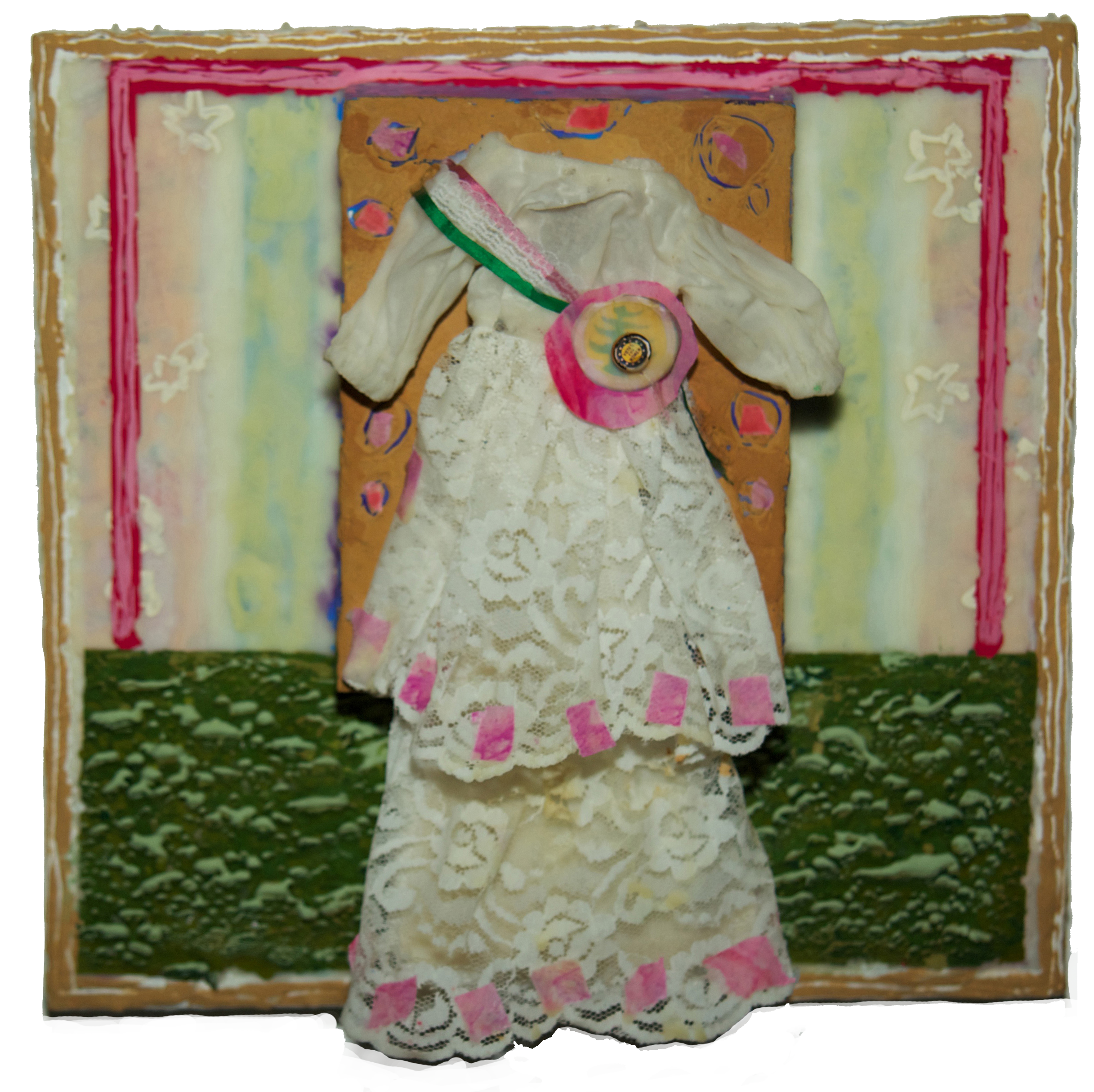 "Lace Dress", 12″x12″, encaustic with vintage dress and rice paper, 2012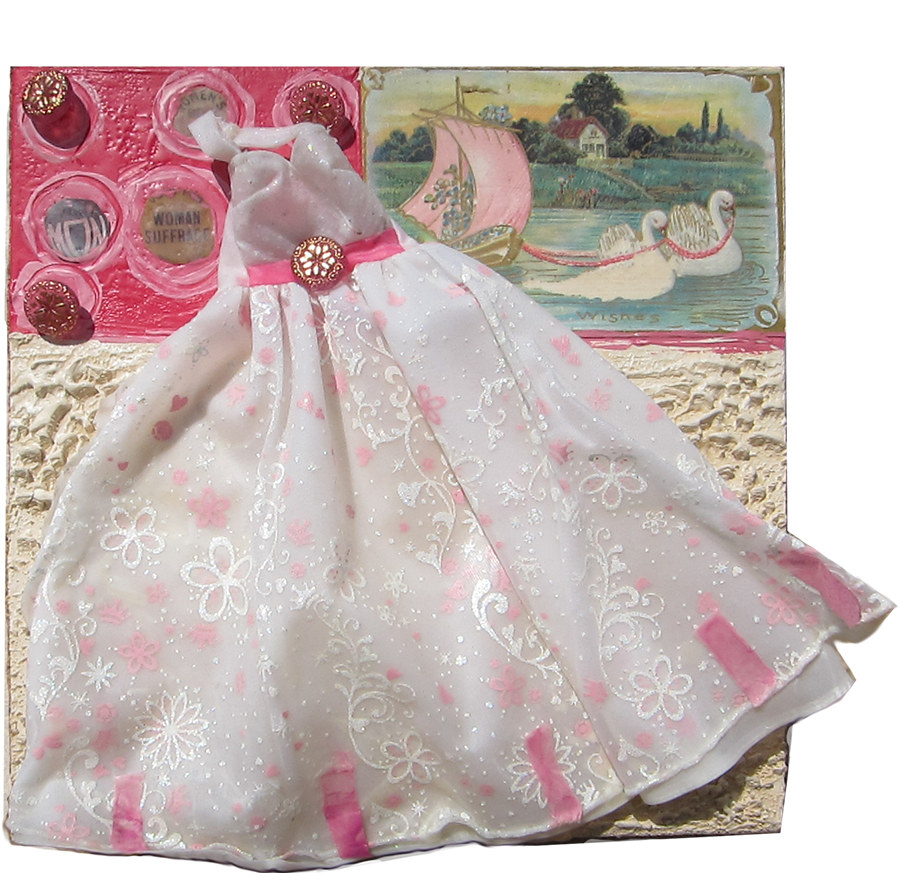 "Swan Boat", 10″x10″, encaustic with vintage postcard, vintage dress  and glass buttons, 2012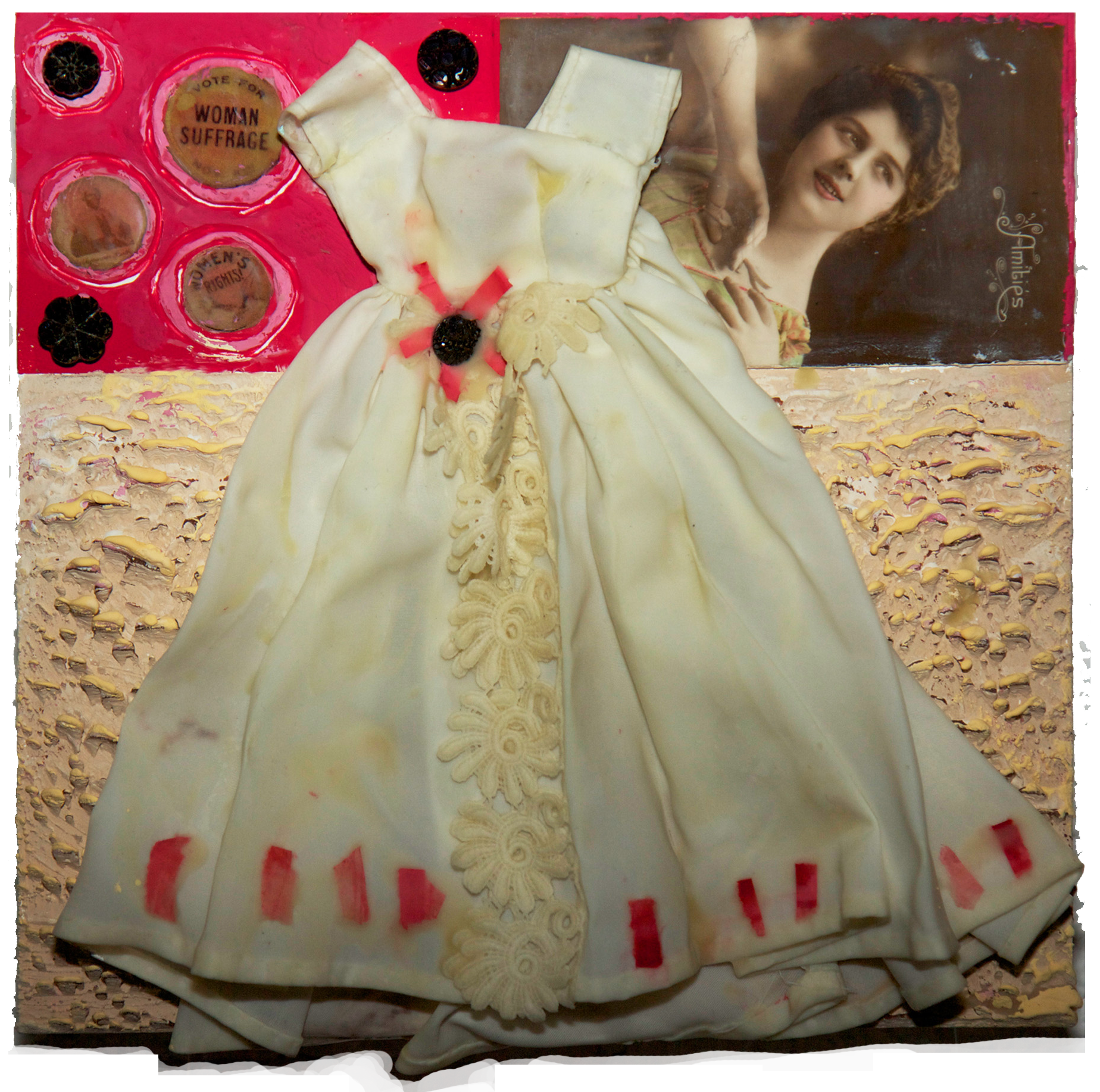 "Friends",10″x10″ encaustic with vintage postcard, vintage dress and glass buttons, 2012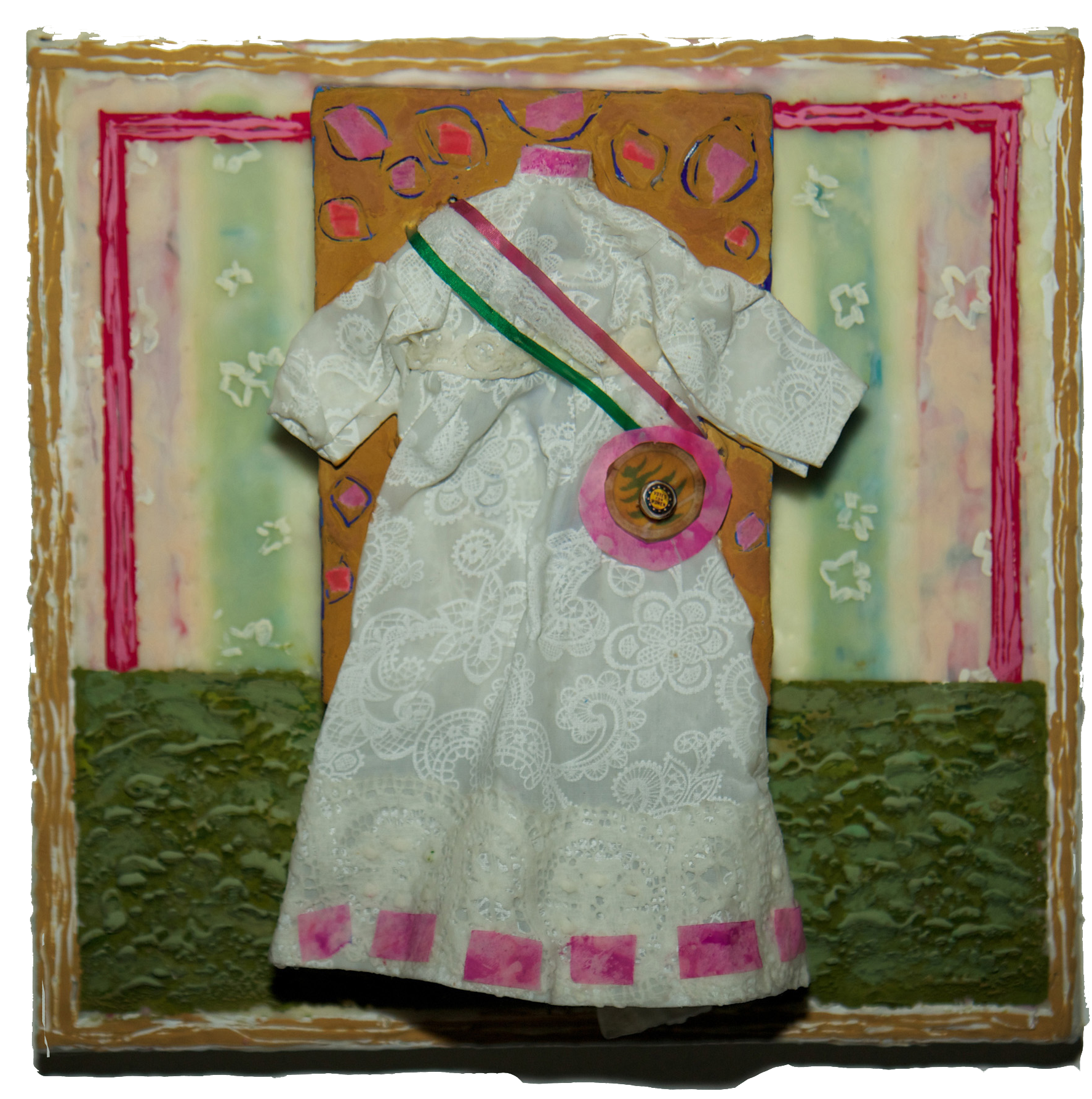 "Banner Dress", 12″x12″, encaustic with vintage dress and rice paper
Why and How I painted These Specific Works….
These Wax Dress Paintings represent lighter and more beautiful view of the Suffragists. The Suffragists, who marched, spoke, and stood in front of the White House, all valued proper attire and strove to look professional and yet fashionable. For these paintings, I found vintage white dresses, and vintage glass buttons. Each dress is adorned, some with suffragist banners, most with colored rice paper.
Behind the dresses are postcards, or colorful swatches of color. Once again, the prominent colors (green, white and violet or pink and white) are symbolic of women's struggle to gain voting rights.
I create the setting for the dresses first, painting in encaustic and adding mixed media. Next, I place the vintage dresses into a pot of hot wax, form the dress , and attach them. And thus the painting is complete!
Why I paint about Women
I didn't have much of an opinion on history classes as a child—they never seemed relevant to my life. After all, history was the tale of men: great men, awful men, and men who walked the grey in between.  Women, on the other hand, well… they existed primarily in references to wives named "Martha", with any real significance left off the page.
         History didn't connect with me until fiveyears ago when I rented a studio and started painting at the Workhouse Arts Center in Lorton Virginia. This Arts Center used to be called the Occoquan Workhouse until prison beds were carted out and drywall carried in. The place has so much history that it has its own museum. Next door at the Occoquan Park a large feminist memorial is being planned to honor the women imprisoned here in 1917.
Suddenly I was putting brush to canvas in the same place that Suffragists refused to put fork to mouth, where they engaged in hunger strikes that swayed the opinion of a nation and won them—won me—the right to vote. While some men were allies in the movement, women led, women fought; women undeniably filled the history books. I began a series of paintings honoring the suffragettes, depicting everything from prison guards fighting the hunger strikes by cooking fragrant hams to how the women risked leprosy in the showers in jail. Every day, I told their stories to the Arts Center's visitors.
 The power of art is only partially held in what viewers see on the canvas. The true power is in changing how viewers see the rest of their lives. In my encaustic paintings, layering wax like the accumulation of history, I seek to remind women and girls of their potential to change the world.